Fact of the Day
More Information
Like the jellyfish of the Palau archipelago, Socotra Island and its inhabitants have seen some of the most drastic microcosmic evolution due to isolation. The island is believed to have separated from mainland Africa about 3,000,000 years ago. The high point on the island, Haghir Massif, has not been submerged in sea water since the Jurassic period (over 100 MYA). Scientists believe that this is why many ancient species still exist on this island. The Jurassic period is also known as the age of the reptiles, and it puts the island's separation just before the beginning of mammals (therefore explaining the absence of mammals native to the island). In total there are 19 endemic (uniquely native) species of reptiles on Socotra Island.
Again, like the jellyfish of Palau, things on this island tend to evolve smaller and less violent. The scorpion is one of the few dangers of the island. Insects found on Socotra have significantly shorter wingspans then their cousins abroad.
Plants have survived amazingly well and are so unique that one may think they're straight out of science fiction. There is a total of 230 endemic plant species on the island. The Dragon's Blood Tree grows like a giant mushroom and is filled with a red, blood-like sap that has been prized since ancient times; while the Soqotra Desert Rose grows trunks that look like the bodies of obese humans and sprouts nothing but tiny pink roses. They can grow out of solid limestone and can be found popping out from the shear cliffside. The trunks help it hold water in the borderline-desert climate of the island (Wranik, 1).
The Africans, the Greeks, the Arabs and the Portuguese have all settled on the island at some point in time. During biblical times, Socotra was a main source of frankincense as it is one of three places on earth where the incense-style can be grown (Grant, 2). Myrrh can also be found in abundance on the island.
The population is estimated at about 80,000.
The long and short of it is that seeing is believing: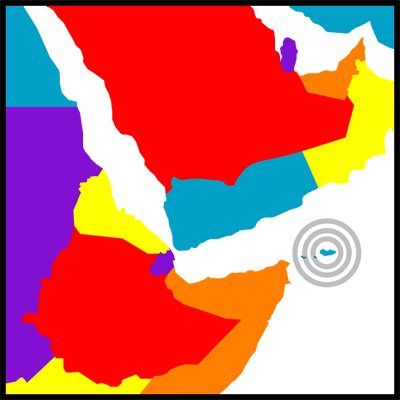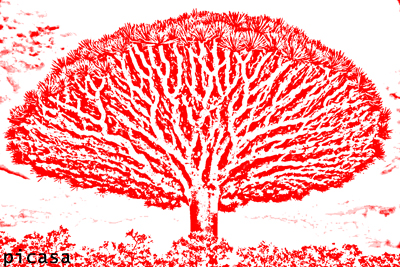 Grant, Grainne. "Socotra: Hub of the Frankincense Trade." Explorations: An Undergraduate Research Journal 1 (2005): 1-4. 2 Feb. 2009 .

"Socotra: ??? ?????? ????????? ??????? Commission on birds and rare plants." Asharq al-Awsat. 7 Dec. 2005. 2 Feb. 2009 .

Wranik, Wolfgang. "Island of Dragons Socotra." Arabian Wildlife 2.1 (2006). 2 Feb. 2009 .

Wranik, Wolfgang. "Yemen Update." American Institute for Yemeni Studies. 11 Aug. 1995. 2 Feb. 2009 .