Fact of the Day
More Information
In 1993, the shoulder of a New York City police officer was broken by one of the balloons.
In 1995, four members of PETA were arrested after streaking through the parade.
In 1997, one lady was put in a three-week coma by the Cat in the Hat balloon. The balloon got out of control and bumped into a lamppost which in turn hit Kathleen Caronna on the head. She was with her husband and infant at the time. Mayor Rudy Giuliani appointed a parade balloon task force after this event. Oddly enough, this woman's apartment was hit by the plane of New York Yankees pitcher Cory Lidle in 2006. She was not home at the time.
In 2004, the M&M's balloon was traveling through Times Square and crashed into another lamppost which in turn cause injuries to two sisters aged 11 and 26. The 26-year-old was already in a wheelchair to being with. NBC's Katie Couric, Matt Lauer and Al Roker somewhat made like the event never happen and even commentated over a previous year's footage of the M&M's crossing the finish line. The sisters wound up with VIP seats in 2006.
Floats and balloons are built in Hoboken, NJ. The balloons are tested out in fields there first. Floats are built with the capability of being collapsed for the trip through the Lincoln Tunnel into New York City.
AssociatedContent.com states that in the early years of the parade, the balloons were actually released and sent into the air. Those who found the remnants, where ever they may be, were able to redeem it for a $100 gift certificate. A lot of money in the late 1920s.
RelatedFAQs: Thanksgiving Dinner, Thanksgiving Tidbits, Victory Farming, WWII NYC.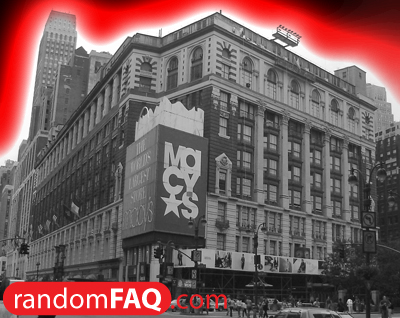 "Bad luck strikes twice for New York woman." The Seattle Times. 14 Oct. 2006. 23 Nov. 2008 seattletimes.nwsource.com/html/nationworld/2003303980_hittwice14.html.

Chan, Sewell. "Given a Reprieve, Giant Balloons Fly Low Over a Soggy Macy's Parade - New York Times." The New York Times. 24 Nov. 2006. 23 Nov. 2008 http://www.nytimes.com/2006/11/24/nyregion/24parade.html?n=Top/Reference/Times%20Topics/Subjects/T/Thanksgiving%20Day.

"Macy's Thanksgiving Day Parade Balloons Used To Be Set Free Over NYC - Associated Content." Associated Content. 23 Nov. 2008 http://www.associatedcontent.com/article/1201629/macys_thanksgiving_day_parade_balloons.html?cat=37.

Neary, Kathleen Seiler. "HowStuffWorks "Macy's Parade Balloons"." Howstuffworks "People Channel". 23 Nov. 2008 http://people.howstuffworks.com/macys-thanksgiving-day-parade2.htm.

Newman, Andy. "NBC Stuck to Sunny Rebroadcast of Last Year's M&M's - New York Times." The New York Times. 25 Nov. 2005. 23 Nov. 2008 http://www.nytimes.com/2005/11/25/nyregion/25nbc.html.