Fact of the Day
More Information
The devil horn hand gesture or, El Diablo, has been a symbol of the occult for thousands of years, if not longer. With the advent of Christianity, the gesture came to represent the impurity of Jesus as a joke on him being the lamb of god. In ancient Greece and Rome, it was superstitiously believed that if a child is impure he/she will be born with [hypothetical] horns.
Through this logic it is easy to see that the gesture became a sign for the devil when Christianity deemed it so. Historically, the horn hand-sign has deeper roots. Cattle worship was an extremely popular tradition among Pagans and the horned heads were a large part of their daily lives.
Helen Keller was capable of many astounding things despite her disabilities. Besides having books published and fighting for socialism, she was an occult theosophist. (Theosophists believe that everything real is made of basic building blocks and is all on the route to consciousness.) She invented many of the common signs we see to day in modern Sign Language. Included in that lot is the sign for "I Love You," which happens to look strikingly similar to the devil-horn/El Diablo gesture. One can infer that Helen Keller purposefully made the most endearing sign in Sign Language an historic representation of the "devil," which to her and many was actually a symbol of pagan truth.
Lastly, who instigated the sign's rise in popularity among rock fans? Living rock legend, Ronnie James Dio, of most notably Black Sabbath, has a lot to do with the gesture's adoption. His chosen name was Dio, which is an Italian word for god. His grandmother was also Italian and at home Dio was exposed to the El Diablo because she was using it to ward off evil spirits. One day he chose to make a hand sign that was different from Ozzy Osbourne Nixon-esque double peace sign. He simply stole his grandmother's tradition and the irony and assimilation are now written in history.
Food for Thought: Helen Keller has said that being deaf was worse than being blind.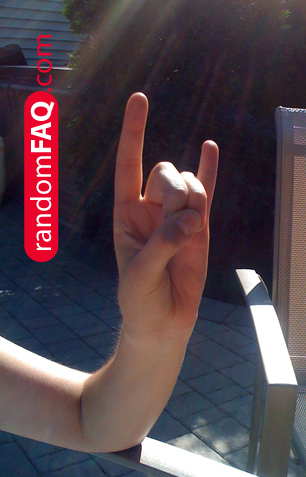 Thanks to Liz for giving us a dainty devil horns picture.


"DIO / RonnieJamesDio.com - Band - Ronnie James Dio." DIO / RonnieJamesDio.com - Official Site of Ronnie James Dio. 16 July 2008 .

"Deaf People - Helen Keller - Deaf and Blind Woman." Deafness Hard of Hearing - Information and Resources for Deaf and Hearing People . 16 July 2008 .

"Hand Sign The Devil's Calling Card I Love You, Devil?." Etoubissa. 16 Aug. 2008 .

"Origin of the Satanic Hand Sign?." Jesus Christ is the ONLY way to heaven!. 16 July 2008
"Satan's "El Diablo" Hand Sign." Power of Prophecy: The monthly newsletter ministry of Texe Marrs. 16 July 2008 .

"Signs of Satan!." Jesus Christ is the ONLY way to heaven!. 16 July 2008
"Theosophy Library Online - Home - What Is Theosophy?." Theosophy Library Online - Home - What Is Theosophy?. 16 July 2008 .