Fact of the Day
More Information
Adrian Targett, a Cheddar history teacher, is the DNA match of Cheddar Man. Ironically, he only lives half a mile away from the caves after 300 generations [source: LA Times].
Once DNA was extracted from the teeth of Cheddar Man, olde time Cheddar residents were asked to swab their cheeks. Only 20 were tested. [source: CNN]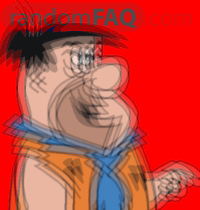 Cheddar Man is Britain's oldest whole skeleton. He was found in a cave and apparently died from being bludgeoned in the face. Cheddar is located a bit inland in Southwest England. Cheddar Man was discovered in the early 20th century and has since then dispelled the thought that 10,000 years ago, England was inhabited by farmers from the Middle East. Instead, Mr. 9000 and his contemporaries were actually hunter gathers [source: Reuters].
When Reuters questioned Adrian Targett's wife about the newfound caveman ancestry, she quipped, "Maybe this explains why he likes his steaks rare."
And, yes. Cheddar cheese does come from that region in England.